Hand Tinted Illustrations
From 1966 to 1989 black and white illustrations in graphite was the only medium I worked in. Then I decided to dabble in color. I would do the illustration in graphite or charcoal and then make a photographic sepia tone print then hand tint it in oils like they used to do on old photo portraits. The result was beautiful.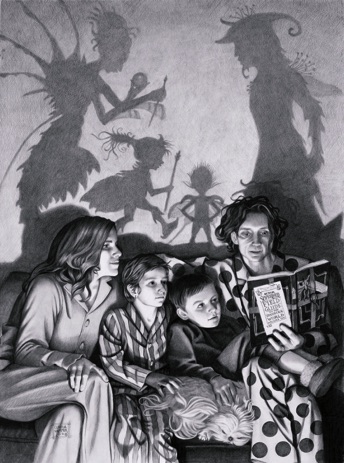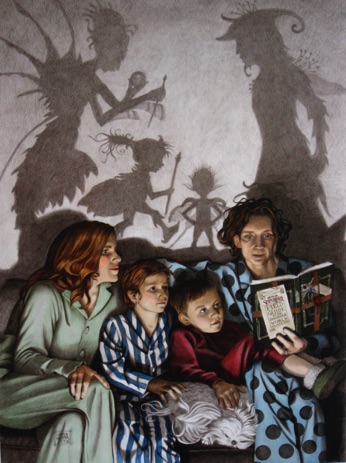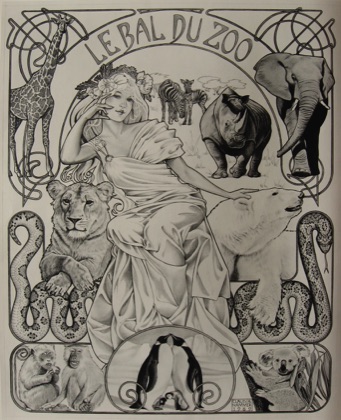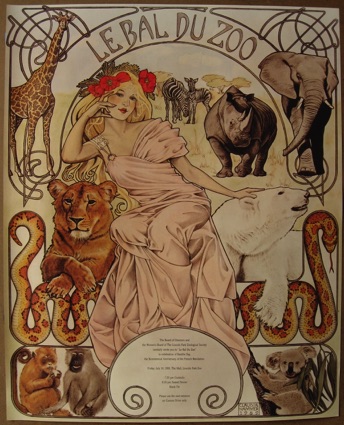 Spiderwick Adventures - charcoal 22.5" x 30" 2008
This was produced for an invitational art show about family reading that was held at the Carnegie Center in New Albany, IN. While at the library I saw the book "Arthur Spiderwick's Field Guide to the Fantastical World Around You" and an idea was born. I got the family down the street to pose and my little dog had to get into the act, she is such a ham. They wore blue jeans and plaid shirts which I made into pajamas.
Original drawing- $3500 Print- $125 smaller prints available
Spiderwick Adventures - Sepia tone photo with hand tinting in Marshall oil paint for photos.
This process is a little tedious but gives a dramatic effect. Since the values are already there all that is needed is flat transparent paint to be applied with cotton balls or a soft rag. Wiping more off creates a lighter shade.
Print, 16" x 20", hand tinted $375
Le Bal Du Zoo - graphite 18" x 24" 1989
The Lincolin Park Zoo in Chicago was a client of ours when I worked for an ad agency in Chicago. This was the original drawing for the invitation to a fund raiser for the zoo.
Le Bal Du Zoo - Hand tinted sepia toned photo 18" x 24"
This color version was was the invitation, printed as a poster and sent rolled up in a tube to everyone on their mailing list. A small version was printed on the front cover of the booklet program and the penguins were on that image instead of the worded invite. The sepia tone gives it a warmth and aged feel.